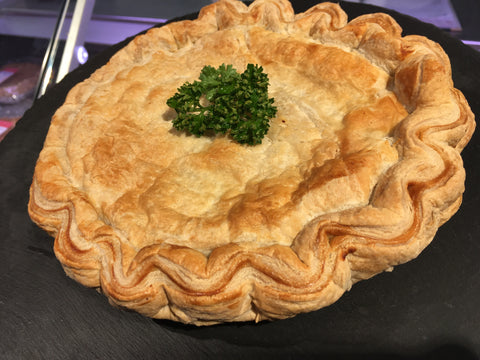 Large Mince Pie
Our handmade Mince Pies are made with flaky puff pastry with a meaty filling on the premises and some may call them homemade. We make these from scratch in our purpose built kitchens.
John just will not allow us to lower the standards that had been started years ago. Our chefs  within the business create further dishes we are famous for. We are very happy with our light puff pastry but do keep a close eye on quality at each delivery.
We glaze all our pies but if you want an extra golden effect simple beat and a egg up and re-glaze before baking one of our freshly made pies. Freshly made, YES, not frozen. This means you can portion our pies and save a slice or two for later in the week by putting some in your own freezer at home. In order to make it easier to carry our "weighty large pies" home we have sourced a large and quite robust clear container to keep them safe on the journey home.
Many years ago we started making pies. We must admit our mince and onion are one of the most popular. People always want a change, always looking for something different. Thus we made another pie. Chicken and Ham.
Today this seems "old hat" but remember we were making and have been making these pies for over 25 years. Experience has taught us not to scrimp on quality thus today we make these pies from prime pieces of whole chicken fillet and prime pieces of Gammon that we have steamed or poached in our new computerised ovens. When we say "new" we actually mean for over ten years.
These ovens are used in most of the best kitchens throughout the world in award winning restaurants. We are fortunate to have two very large ones in our kitchen. Why do our chefs love them? ...... because they provide consistency every time!
They also have a self cleaning cycle! What does that mean? ...... well you would love one in your kitchen! The ovens turn themselves into giant "dishwashers" and have a  pre programmed wash cycle at very high temperatures. Our ovens today look as new as the day they were installed.
Our chefs and cooks must also get the PRAISE for the tremendous EFFORT they make in our kitchens maintaining our equipment. You can't produce the sort of product we pride ourselves in without good equipment and dedicated staff. Very seldom do they get the praise but we VALUE their expertise highly when making our pies.
Each Pie contains 850g (Serving 4 Persons)