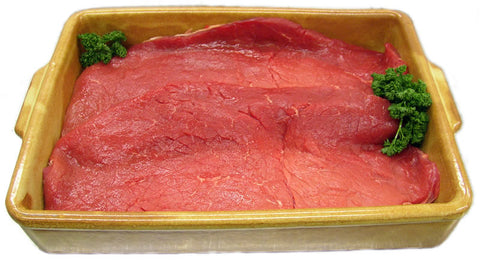 Topside Frying Steak
Topside Frying Steak from the hindquarter. Ideal for quick cooking. Super lean and moist.
In Doweys most of our Topside is sold as sliced steak. Topside comes from the "Ham of Steak" and is part of the hindquarter of Beef. The "Ham" is made up of the Topside, the Silverside, and the Feather, (a butcher's term for a cut which nestles between Topside and Chump of Beef). Essentially the Topside is what it "says in the name". It is the top of the Silverside. This means that Topside is also a cut that can be roasted in the oven.
The cut of meat is pretty versatile and can used by the expert butcher in many ways and guises. Let your imagination go with the flow and think outside the box! We use Topside for our Beef Stir Fry Strips.
Slicing Topside is a great skill and it gives the butcher great delight to produce these long slices of tender beef. Topside is relatively easy to cut but you must keep it even and of a uniform thickness. When an apprentice first comes to the "slicing block" he or she may spend a lot of their time perfecting this skill. Slicing Chump Steak takes even more skill and it is only after a while the apprentice is permitted "loose" on a Chump of Beef.
Topside is an ideal cut for those who are looking for a very lean amount of beef. It's also very forgiving because it can be cooked slowly for a long time or quickly, even in a stir fry. However we DEFINITELY do not recommend grilling it or BBQing it. Topside would require to be marinaded for a least 24 hours before using these quick cooking methods. Most good chefs would recommend marinating meats prior to cooking, this promotes the fuller flavour of the meat to come to the fore.

Each Pack contains 440g (One Large Slice)